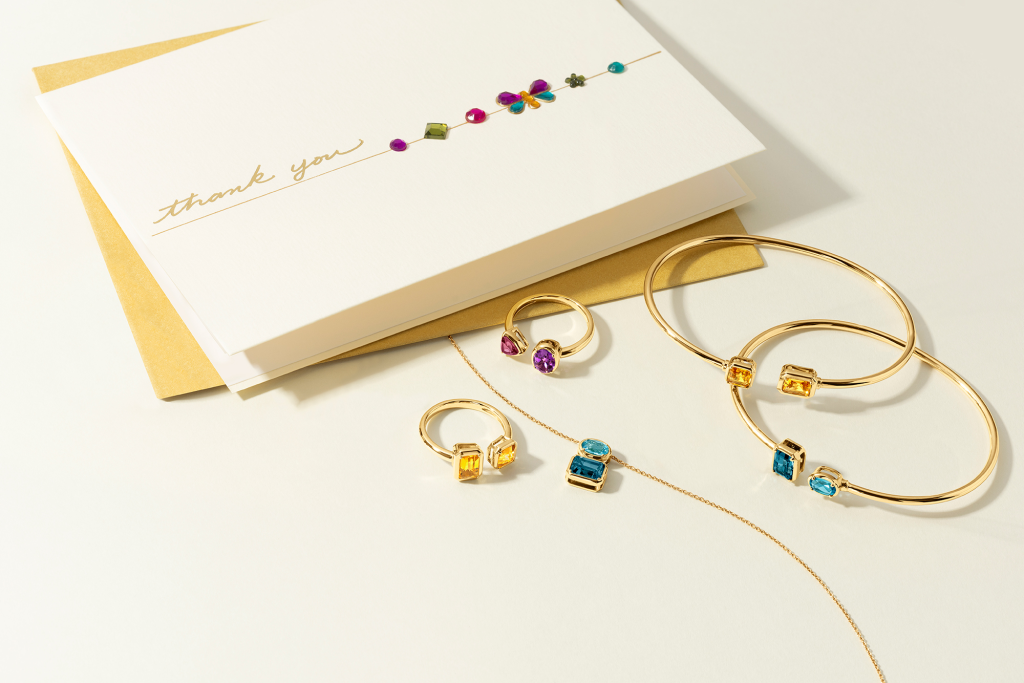 WILMINGTON, N.C.–(BUSINESS WIRE)–Just in time for holiday gift shopping, REEDS Jewelers has launched an exclusive new jewelry collection in partnership with Papyrus – a premium brand in the Celebrations marketplace.
"We're thrilled to partner with REEDS Jewelers on this first-ever Papyrus fine jewelry collaboration"
For over 70 years, Papyrus has been delighting consumers with beautifully designed artisan-style products perfect for everyday moments and special occasions. Now, the Papyrus by REEDS Jewelers collection will be known for a similarly artistic and expressive spin on jewelry. The collaboration is a natural fit for two brands known for premium quality offerings, thoughtful approach, and elevated style.
"We're tremendously excited to partner with Papyrus to design and craft an exquisite line of fine jewelry, especially since we're both dedicated to helping celebrate the big and small moments in life," said Judy Fisher, SVP of Merchandising at REEDS Jewelers. "Handmade Papyrus cards are created one piece at a time with superior craftsmanship, artistry, and quality. Our jewelry designs needed to translate this brand aesthetic in a way that's inspired by the card designs and qualities, but not a literal reproduction. We accomplished this with the purposeful use of bold colored gemstones in sophisticated, elegant, and artistic designs – handcrafted by artisans."
Every style in the collection is finely crafted using vibrant gemstones, precious yellow gold metals, geometric bezels, and asymmetrical details. The Papyrus by REEDS Jewelers collection includes bracelets, necklaces, earrings, and rings set with natural gemstones to punctuate each piece—including citrine, blue topaz, rhodolite, and amethyst. The signature golden Papyrus hummingbird, symbolizing love, joy, and celebration, is subtly positioned on every piece.
"We're thrilled to partner with REEDS Jewelers on this first-ever Papyrus fine jewelry collaboration," said Papyrus Executive Director Lisa Wascovich. "REEDS is a distinguished name in the jewelry industry, and its reputation for exquisite design aligns with our commitment to craftsmanship. Together, we are excited for our loyal Papyrus customers to discover this beautifully designed jewelry collection by REEDS."
Because no Papyrus by REEDS Jewelers gift would be complete without one of their signature cards, every purchase includes a complimentary Papyrus greeting card. Papyrus by REEDS Jewelers can be purchased at any REEDS Jewelers store (find your local store at https://www.reeds.com/reeds-locations) or shop the entire collection online at REEDS.com.
About REEDS Jewelers:
REEDS Jewelers was founded in 1946 with a single hometown store in Wilmington, N.C. It's grown to a full-service, multi-channel presence with 85 stores in 13 states and an industry-leading ecommerce website. The company has been the trusted jeweler of choice for generations thanks to its selection of prestigious designer brands, luxury Swiss timepieces, modern and on-trend fashion jewelry, and an array of beautifully crafted collections designed exclusively for REEDS. Throughout its 77 years, the company has remained family-owned and committed to its founding principles of honesty, transparency, and outstanding customer experience. www.REEDS.com
About Papyrus:
Papyrus started in 1950 as a small, family-run business, importing unique fine paper products from Europe. As the premium brand of American Greetings, a leader in the large and enduring celebrations marketplace, Papyrus has continually evolved in design, voice, and aesthetic while remaining true to our passion for fine craftsmanship and artistry. Over the course of its rich history, Papyrus has partnered with artists from around the globe while consistently raising the standard for design and handwork in the Celebrations marketplace. Unparalleled attention to high quality and the finest details drives a commitment to inspire people to express beautifully and connect with each other by celebrating the joy of every day. www.papyrusonline.com
For additional information and to explore products and locations, visit www.reeds.com