Broadway and Screen Star Brings Her Iconic Voice To Personalized Digital Birthday Greetings
CLEVELAND, March 21, 2023 /PRNewswire/ — With a voice that is recognizable after just a few notes, Tony-Award winner, singer, actress, songwriter, designer and philanthropist Idina Menzel unveiled a brand-new personalized birthday SmashUp™ video ecard. As one of the great multi-talented performers of our time, Idina's famous melodies and stage presence appeals to fans of all ages across the globe. Available through the American Greetings and Blue Mountain websites, as well as on the American Greetings and Blue Mountain ecards apps for iPhone and Android, the Idina Menzel SmashUp™ is destined to be a hit.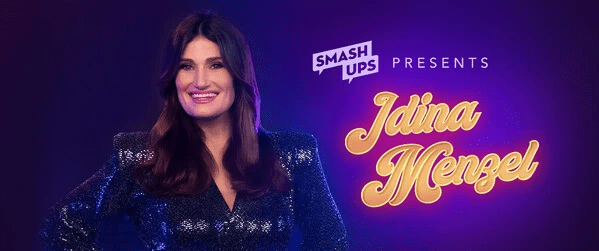 The SmashUp gives a nod to the excitement of a Broadway production, complete with an outside marquee featuring the recipients' name in lights. The camera then pans to Idina on a theater stage where she starts singing and is soon joined by four energetic dancers, dressed in retro dance attire. The birthday recipients' name is center stage, in flashing lights and in a familiar movie poster font. With more than 1,000 names available, Idina personally sings a happy birthday greeting with the customized name and age set to the tune of the classic 1980's theme song from "FAME."
"Idina is a powerhouse talent, and we are honored to have her join the SmashUps™ family," said Rob Matousek, Executive Director, Direct to Consumer Business at American Greetings. "Whether on the stage or screen, Idina radiates such joy, and collaborating with her to bring that to life in a digital greeting card was memorable for all."
"Connecting with fans is one of the most rewarding aspects of my career and for people to now have an opportunity to send personalized birthday greetings from me takes it to a whole new level," said Idina Menzel. "I love the idea that I will be a part of celebrating someone's special day, helping make their birthday a little brighter."
SmashUps™ are available on www.americangreetings.com, www.bluemountain.com, and on the SmashUps™ and Blue Mountain ecard app for iPhone and Android. They can be shared via email, text, or on social media. Users can sign up for a monthly, yearly, or two-year American Greetings account to have the ability to send an unlimited number of SmashUps™—as well as all American Greetings digital offerings—over the course of their membership period. Membership costs range from $6.99-$39.99, depending on the length of membership. For the latest news from SmashUps™, follow @amgreetings_com on Instagram and @amgreetingscom on Facebook.
ABOUT AMERICAN GREETINGS:
American Greetings is a global leader in the large and enduring Celebrations marketplace. The company helps people celebrate holidays, each other, and all of life's special moments, in-person and online, guided by a mission to "make the world a more thoughtful and caring place every single day." American Greetings offers products wherever and however people wish to purchase them – online, in-store, or curbside pickup. Celebrations happen throughout the year, driven by traditional holidays, key milestone moments such as weddings, baby showers and graduations, as well as recurring everyday events such as birthdays and anniversaries. The company's brands include American Greetings, Papyrus, Recycled Paper Greetings, Paper Rebel, Carlton Cards, Today and Always, DesignWare party goods, and Plus Mark gift wrap and boxed cards. Its digital business unit, AG Interactive, is a leading provider of digital greetings and premium Celebrations content through proprietary technology platforms and apps. Our popular digital brands include American Greetings, Blue Mountain, SmashUps™, justWink™, and Creatacard™. For more information, visit corporate.americangreetings.com and follow us @AmericanGreetings on Facebook and @amgreetings on Instagram.
ABOUT IDINA MENZEL:
Idina Menzel is a powerhouse multi-hyphenate: a singer, an actress in film and TV, a songwriter, a Broadway star, and a philanthropist. She rose to fame for her role as Maureen in the popular Broadway musical Rent, and her career took off when she won a Tony Award for her role as Elphaba in the smash musical Wicked. Her voice can be heard as Elsa in Disney's Oscar® winning Frozen, the second highest grossing animated film of all time. The film's song "Let It Go", voiced by Menzel, became an instant international phenomenon, winning the Oscar® for Best Original Song – where Menzel performed it at the ceremony – and the Grammy® Award for Best Song Written for Visual Media. She reprised her role as Elsa in Disney's Frozen 2, which broke records to become the highest grossing animated movie of all time. She joined Adam Sandler in the Safdie Brothers' Film Independent Spirit Award- winning A24 film Uncut Gems. Menzel can currently be seen in the Disney+ documentary Idina Menzel, Which Way to the Stage?, Disney's Enchanted sequel, Enchanted 2: Disenchanted, alongside Amy Adams, Patrick Dempsey, and Susan Sarandon; as well as Amazon Studios' Cinderella, for which she wrote and sang the song "Dream Girl." Menzel's prolific recording career includes multiple cast albums and the solo albums: Still I Can't Be Still, Here, I Stand, idina, and her latest album, Christmas: A Season of Love. Her first Christmas album, Holiday Wishes, debuted at #1 on Billboard's Holiday Albums chart. Menzel received the Breakthrough Artist of the Year Award at Billboard's annual Women in Music event in 2014 and performed the National Anthem at Super Bowl XLIX. Additional screen credits include Lifetime's remake of Beaches, Disney's Enchanted, Maureen in Chris Columbus' film version of Rent, as well as the recurring role of Shelby Corcoran on Fox's Glee. Menzel was previously seen on stage in If/Then, for which she earned her third Tony Award nomination, Broadway's Aida and the Encores! production of Hair. Menzel also premiered Wicked in the West End, receiving the Theatregoers Choice Award. She and her sister Cara Mentzel recently released a children's picture book, "Loud Mouse," which centers on self-acceptance and being true to yourself. Menzel co-founded the A BroaderWay Foundation in 2010, dedicated to offering girls from underserved communities an outlet for self-expression and creativity through arts-centered programs.
SOURCE American Greetings